Software is only half the experience
The inFlow Smart Scanner gives you the complete solution for running your operations.
Imagine the power of your whole business in the palm of your hand.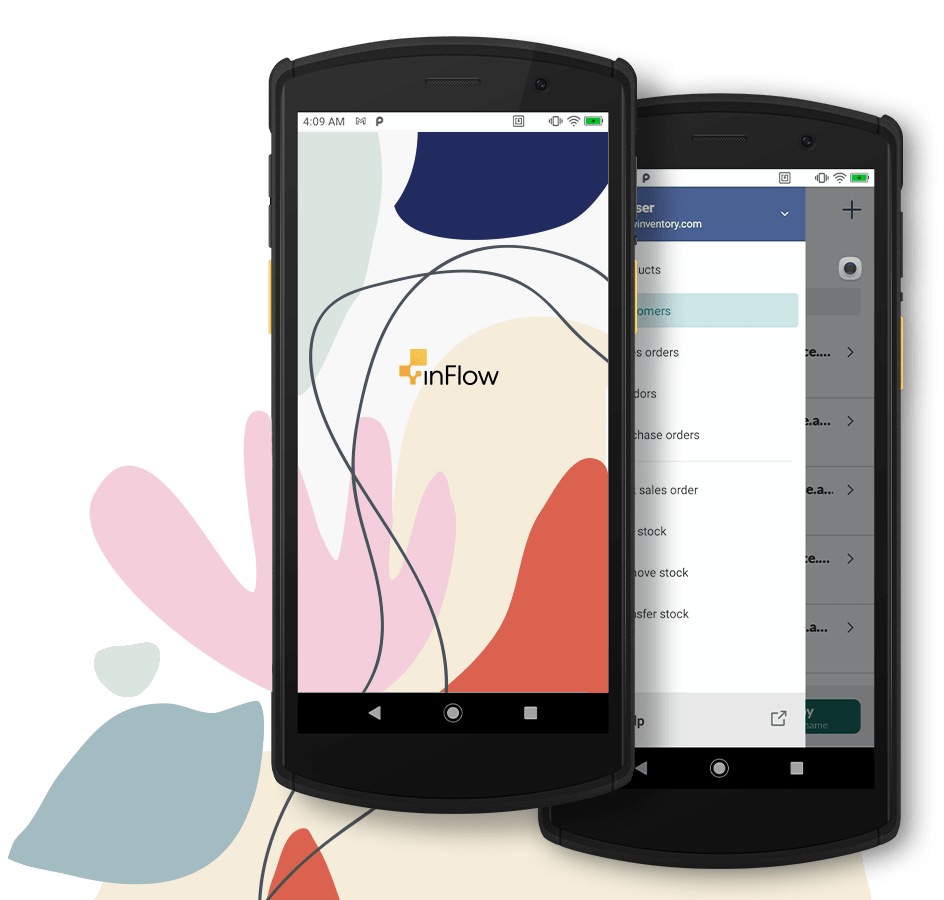 Is this a barcode scanner or a smartphone?
It's both! The inFlow Smart Scanner is a specially designed Android Smartphone with a built-in laser scanner. It's optimized specifically for inFlow Cloud.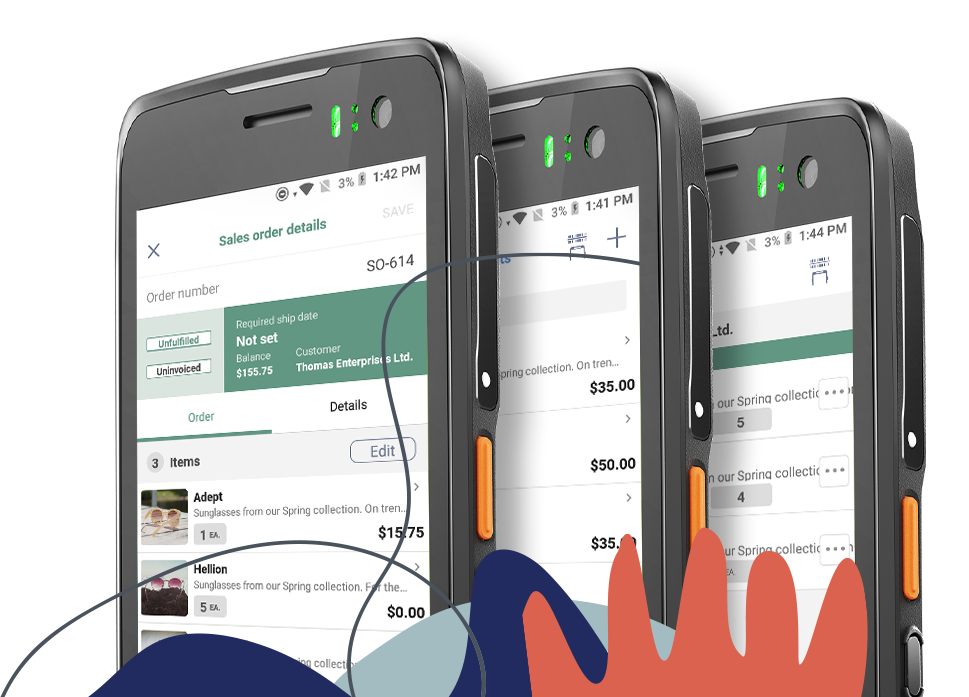 Take action on your inventory wherever you are
No matter if you're working in the warehouse, the shop floor or on the road—the inFlow Smart Scanner helps you work faster and more accurately.
Make accuracy a priority in your business.
Tired of records not matching what's on the shelf? The Smart Scanner makes it easy to keep inventory accurate.
Save time and get more done in a day
You already know time is money. The inFlow Smart Scanner makes every second count.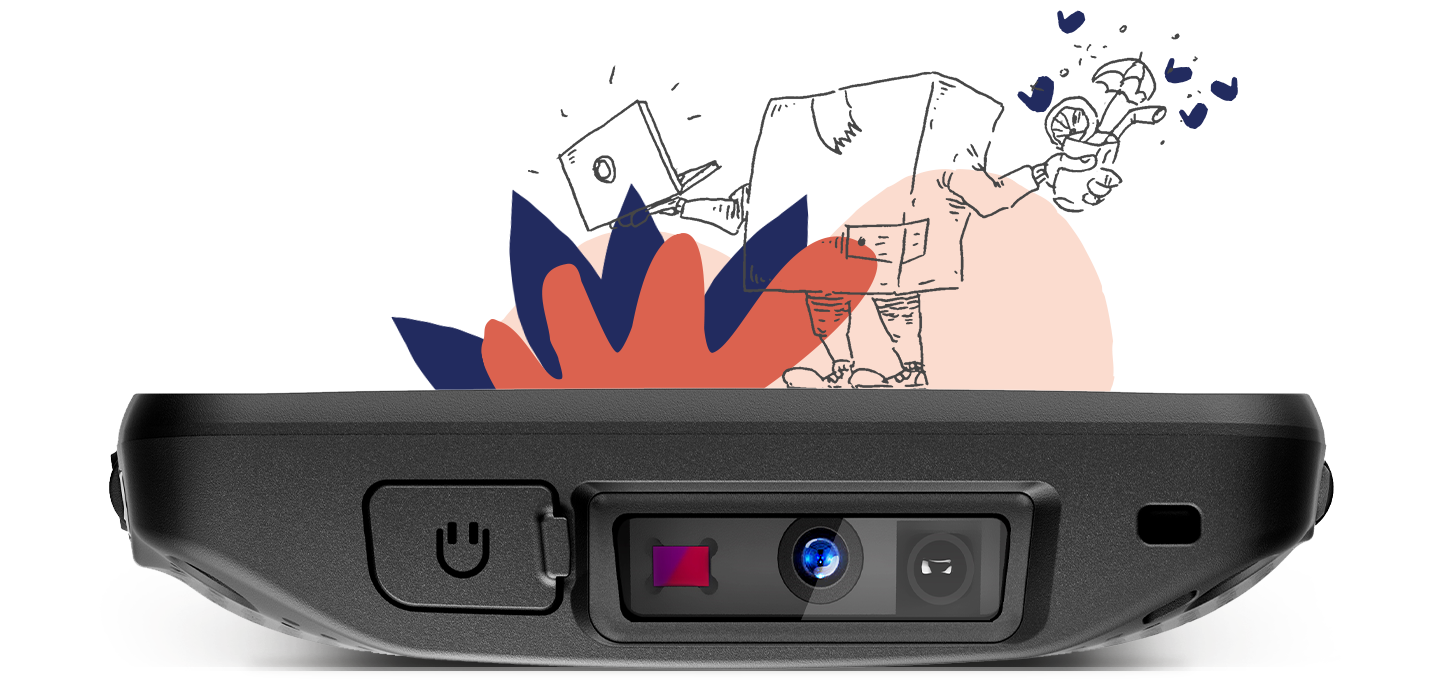 Built tough enough for your business
A dedicated device for your business that's drop tested, spill tested, and built for real work.
There's no comparison (but here's one anyway)
Why the inFlow Smart Scanner is better than your own phone.
inFlow
Smart Scanner 3

Consumer
phones

SCANNER
Built-in laser scanner

SCANNER
Limited by phone camera

SPEED
With a built-in dedicated scanner seamlessly scan any barcode

SPEED
As fast as the camera app, requires focusing

RANGE
Easily scan from a distance of up to 5ft!

RANGE
Limited (must be fairly close)

DURABILITY
13mm thin but still withstands 5 foot drops

DURABILITY
Definitely don't want to drop your own phone

DEDICATED SCAN BUTTONS
Two on the device, one on the optional trigger

DEDICATED SCAN BUTTONS
None

TECHNICAL SUPPORT
Unlimited while subscribed to inFlow Cloud

TECHNICAL SUPPORT
Up to your phone manufacturer
OPTIMIZED FOR INFLOW
Knows when you can scan and leaves you with more screen space
OPTIMIZED FOR INFLOW
Extra screen taps to bring up the scanner
SECURITY
Certified Android 11.0 ROM
SECURITY
Unknown/depends on user installed apps
ACCESSORIES
Scanner is built-in. Optional pistol grips, strap and docking cradles expand the system
ACCESSORIES
Laser scanner add-ons are $400+
BATTERY LIFE
Large 4,300 mAh capacity for all-day battery life
BATTERY LIFE
Varies
WARRANTY
Full 2 years
WARRANTY
1 year limited
Half the price, half the size, twice the power.
It's not just the best for inFlow—it's the best on the market.
inFlow Smart Scanner 3

Zebra TC77

Wasp DR 5

PRICE (USD)
$1,179.00
PRICE (USD)
$2,409.68
PRICE (USD)
$1,145.50
ANDROID VERSION
11.0 Google Certified
ANDROID VERSION
8.1 (circa 2017)
ANDROID VERSION
10 (circa 2019)
RAM / ROM
4 GB / 64 GB
RAM / ROM
4 GB / 32 GB
RAM / ROM
4 GB / 64 GB
PROCESSOR
Octa-core 2.45 GHz
PROCESSOR
Octa-core 2.2 GHz
PROCESSOR
Octa-core 2.2 GHz
BATTERY
4,300 mAh (replaceable)
BATTERY
4,620 mAh
BATTERY
4,000 mAh
THICKNESS
13mm thin
THICKNESS
28mm (115% thicker)
THICKNESS
17.4mm (33% thicker)
SCREEN SIZE
5.7 inch
SCREEN SIZE
4.7 inch
SCREEN SIZE
5.45 inch
WARRANTY
2 years
WARRANTY
1 year
WARRANTY
1 year
Get the complete solution for running your operations
Scanning reduces mistakes you might make while typing.
Know what you need to pick and what it looks like.
Lasers are better than cameras for scanning.
Instantly know if you're short shipped.
This device is ready for spills and drops (a.k.a. everyday life).
A laser scanner and smartphone in one awesome package.