— 5 minutes reading
If you'd like to get started with barcoding at no charge, you'll want to use a good free barcode generator. There are a lot of options out there, but only a few of them are actually good free options. Most of them will generate one barcode at a time for you, but if you're trying to label your shelves or products, those tools will waste a lot of your precious time.
But don't worry—we had a look at the first few pages of Google results for free barcode generator and we've cut them down to the top three. For most instances, we'd recommend our first pick, Barcode Tec-IT, but there are good reasons to try the others on this list.
For a more in-depth look at how to get started barcoding your small business, check out our Ultimate Barcoding Guide. It covers barcode generation and everything else barcode related.
The criteria for a good free barcode generator
Before we get into our recommendations, here's a quick summary of what features you should look for:
Generate multiple types of barcodes (i.e. symbologies)
Generate one or more barcodes simultaneously
Offer an easy way to download the resulting barcode images
That's a pretty simple list, but you'd be surprised how many tools would rather market first and help afterward. A free barcode generator should save you time, so we've left out anything that slows down the process. This list is laser-focused on just the good stuff we feel is worth your time.
#1 Barcode TEC-IT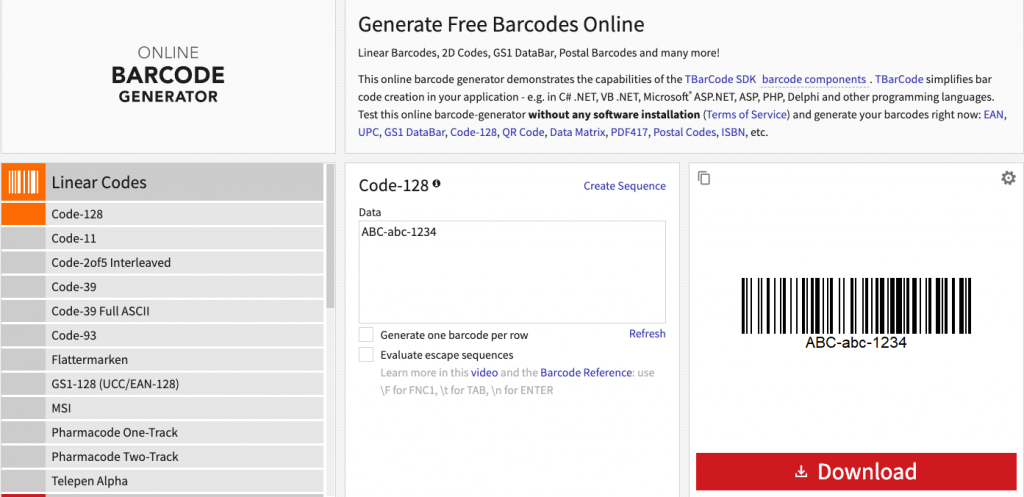 Barcode TEC-IT is the top free barcode generator on Google. The page looks busy, but don't be fooled. This is a great tool for generating barcode numbers and images that are ready for use on labels. It covers basically all of the common symbologies you might want to use, including UPC, EAN, CODE39, and CODE128. They also offer specialized options, like Pharmacode and Telepen Alpha.
Most barcode generators require you to already have a set of numbers that you'd like to turn into barcodes. This page goes a step above and lets you generate a series of barcode numbers with your own prefixes and suffixes (which is something our barcode software does too). This is great because you might want one category of products to have "RED" as a prefix, while another category of products could use "BLUE".
Barcode TEC-IT's page also lets you download a single .zip file that contains multiple barcode images. This allows you to generate all of the barcodes in one sitting and download them with a single click. This saves a lot of time compared to other free barcode generators.
The only caveat is that it might not be as easy for you to print multiple image files in one batch. If you'd like your barcodes generated into a single printable file, we'd suggest trying our software, inFlow Cloud. We generate barcode numbers with suffixes, but also place them onto a single printable PDF that's easy to print and cut out.
However, if you need to generate a lot of barcodes for free with zero setup, this page is great. All you really need to know is the number of barcodes you want to generate, and this tool takes care of the rest.
#2 Barcode-generator.org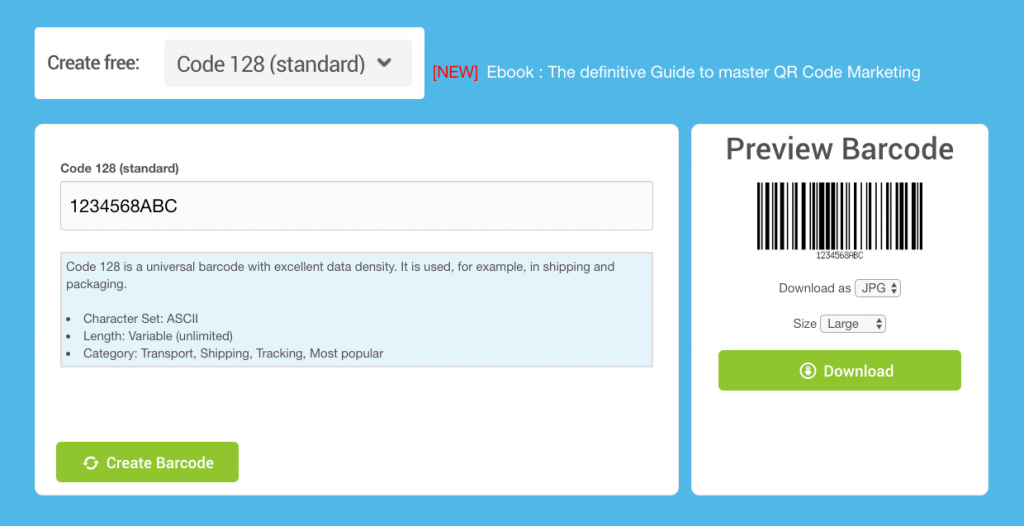 This free barcode generator Barcode-generator.org is a much cleaner looking webpage, but it isn't as functional as our top pick. We think it's worth a try because it allows you to download barcodes as JPG, EPS, or even SVG files.
SVG files are scaleable vector graphics, which means that you can scale them to any size without losing detail. So if you need some large barcodes for items on the very top of your shelves, this tool could be a good way to generate a few of them quickly.
You have to generate barcodes one at a time, but this site does download the barcodes straight to your computer. That doesn't sound like anything special, but many other free barcode generators we tried insisted on emailing you a single barcode per session, which simply isn't a good use of your time.
Finally, this site offers a good breakdown of each barcode symbology, and what industry normally uses them. So if you're not sure what kind of barcodes you should be using, barcode-generator.org could help. 
#3 Morovia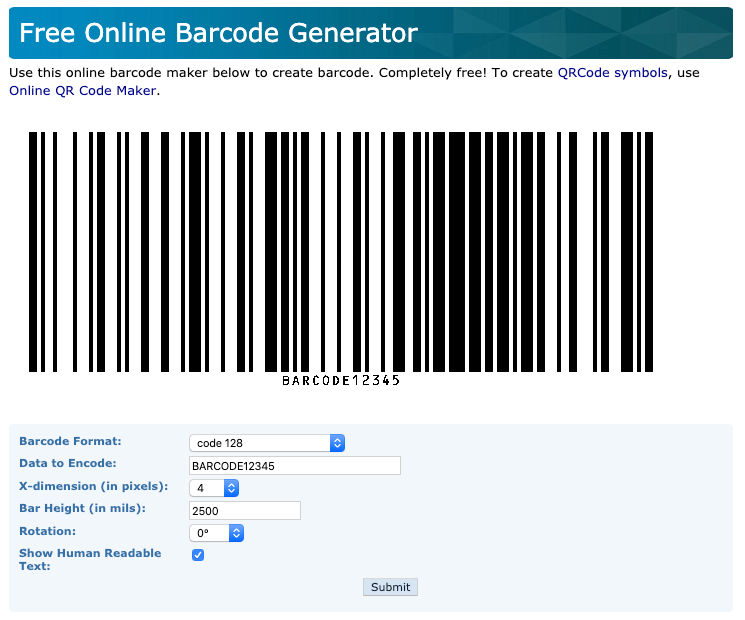 Morovia's tool isn't the easiest to use because the barcodes don't download automatically. You have to drag and drop them out of your browser or right-click on the images to save them.
However, Morovia is worth a mention if you want to tweak the dimensions of your barcode (like making it taller for easier scanning). You can also choose between including or excluding text. Although we'd generally recommend including text so that it's easier to tell one barcode from another without scanning.
Why inFlow is better than a free barcode generator
Using a free barcode generator is a great way to get your foot in the door with barcodes at no cost. The reality is if you're looking for a free barcode generator, you're probably looking to improve your inventory situation—and that's exactly what our software can help you with. Our software inFlow has a built-in barcode generator that supports prefixes and suffixes. We also integrate with DYMO label printers, so you can generate barcode numbers and create labels on the same day.
Watch this quick video to see just how easy it is to generate and print barcode labels with inFlow:
How to Generate and Print Barcodes
If you'd like to give inFlow a try, you can start a free trial here: